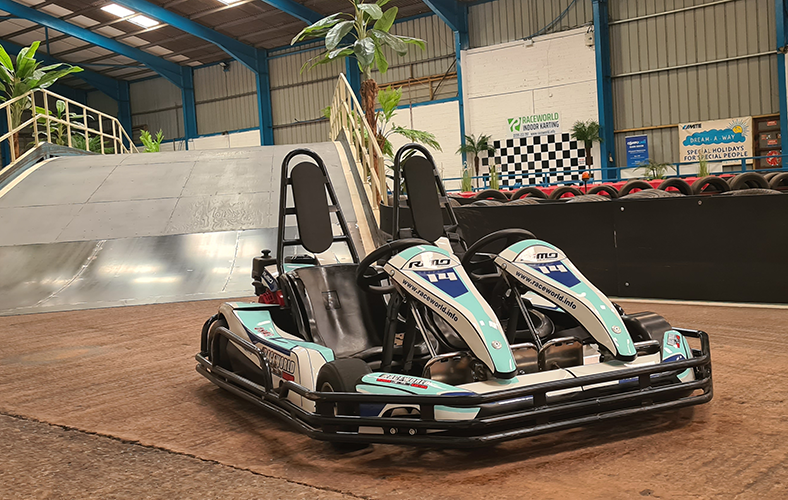 Welcome
Raceworld Ltd is an Indoor Karting circuit based just outside Exeter, Devon on the Greendale Business Estate
We are fully accessible for wheelchair users.
Please get in touch if you require any further information about specific access or need advice on planning your visit.
Our main entrance has a ramp to enter the building and the main spectator area is on one level.
Please be aware, some parts of the circuit have low lighting.
Travel by public transport
You can get to Raceworld by car, bus or taxi.
Travel by bus
Stagecoach operates a regular bus service linking Greendale Business Park with Exeter city centre, Exeter St Davids railway station and Exeter International Airport (as well as local links to Sidmouth, Honiton and Exmouth)
The nearest bus stop is 50m away from our main entrance - Greendale Business Park.
Travel by taxi
You can get a taxi to us from Exeter through W.A.V.E. (Wheelchair Access Vehicles Exeter) by calling 01392252525 or visiting their website https://www.waveexeter.co.uk/contact. This taxi company has a wheelchair accessible vehicle.
Accessible taxis should be booked in advance. To access the attraction please ask to be dropped off at our front entrance.
Parking
There is a drop-off point at the main entrance with no kerb.
There is ample parking available at Raceworld
There is a micture of sodium (orange) and LED (White) lighting throughout our car-park.